In this article, we want to emphasize the importance of page load speed to improve the conversion of SEM campaigns: why it is vital, what you can do and what your hosting provider should do.
An SEM campaign (Search Engine Marketing) is the set of strategies, techniques, and tools used by companies via paid advertising to optimize the visibility of their web pages in Internet search engines.
Setting up an SEM campaign requires a great deal of effort: searching for keywords, studying the competition, the associated cost, optimizing the web, in short, a long list… But the success of so much effort may be left at zero. There is a parameter that, part of it, is out of our hands as web professionals that may affect the user experience: Slow loading landing pages.
The Quality Score or Google Quality Level
Google looks at your ad very carefully and categorizes it:
The Google Quality Score is a diagnostic tool. Google assigns a quality level to the ads, and it is the scale that we will use to improve our SEM campaigns.
The "Quality Score" estimates of the experience that users have when they see your search ads. The higher the quality of an ad, the higher its performance, the lower its cost, and the better the position in which it appears.
Source: Support Google
This "Quality Score" or "Quality Level" is based on:
The ad relevance: is the level of coincidence of the ad with what the user is searching.
The expected CTR: is the probability that a user clicks on your ad, the conversion that would be optimal to obtain.
The landing page experience: This is the page where you direct your customers. Is it what they are searching? Is it useful?
If your "Quality Score" is below average, it's telling you to review EVERY aspect of your page (which can be overwhelming).
Check your website first. If you manage a WordPress, having a lightweight page is possible by following the steps in the guide.
Once you have that fixed, focus on the loading speed.Why? Because Google claims the following:
The speed at which your page loads can be decisive for a user when deciding whether to leave the site or purchase in it.

Google
They attach great importance to this topic, not in vain.
In retail businesses, one second of loading delay on mobile devices can reduce conversions by 20%.

Google
Slow page load times increase the probability of abandonment.
Google relies on the following statistic to justify why advertisers should thoroughly review their landing page: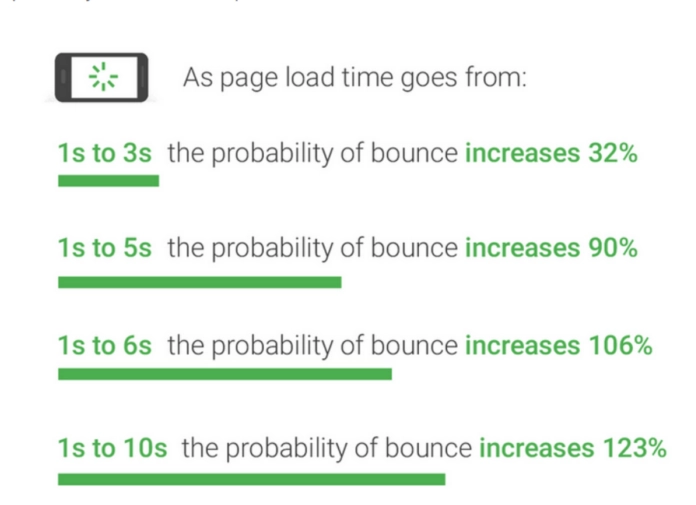 The article is a few years old, but Google still uses it as a reference. It recommends that you do not exceed 3 seconds of loading, but according to this stat, even exceeding a second already starts to create a high percentage of abandonment probability. Despite this, it mentions that most websites exceed this loading time by 19 seconds.
It may be due to several factors: some "on-page" and others "off-page". Google gives many hints on how improve the construction and lightness of your page. However, he tiptoes over the importance of the service offered by the provider where you have your page hosted. We will explain it to you shortly.
Before:
How can I improve my landing page for better conversion?
Google makes a set of recommendations to improve your SEM campaigns:
"Make sure your websites are fast and mobile optimized.
Campaigns must be mobile-first.
"Communicate often with whoever designs your website" (it does not mention that you do the same with your hosting).
Why: " Anything that improves your website will benefit your users (and your marketing efforts)."
Design a website that loads fast.
53% of users abandon mobile websites that take more than 3 seconds to load.

Google com
From Wetopi, we recommend for WordPress:
Choose a light theme.
At wetopi, we have reached a Google PageSpeed of 100 with the "Twenty Twenty-Two" theme.
Reduce the number and size of plugins. Only use those that are strictly necessary.
Install a cache management plugin that allows you to improve speed, such as WP Super Cache, WP Rocket, or W3 Total Cache.
Reduce the load on your website by eliminating unwanted traffic with efficient security systems. MalCare or Sucuri are good examples of services external to your accommodation. The alternative is managed WordPress hosting like Wetopi, where WordPress security is one of their specialties.
Use modern image formats: WebP as an alternative to JPG and PNG. And for schematics or vector illustrations, we recommend using the SVG format.
A note on Google's AMP (Accelerated Mobile Pages) tool
Google recommends serving the AMP format to improve the loading speed of mobile pages, but in reality, if the service offered by your hosting is fast, it is not necessary to use this format.
To achieve good load times and thus improve our SEM campaigns, we can follow Google's instructions and use tools such as PageSpeed Insights, Google Lighthouse Audit, etc. But it is essential to understand loading times and know how to measure them autonomously. Follow our recommendations below.
How to measure page load times
To get to know how long it takes for your page to load, which part corresponds to the page itself, which other part corresponds to the server in your hosting, you need to understand that the loading of a page is the sum of 4 phases in total. In the linked article, we expand and delve into these 4 phases, but what matters to us is the essential: two of these factors depend on your hosting. We explain them below:
Web application: The time the server spends to build the web page we want to see (this factor depends on your hosting provider)
Network (Network): The Network phase includes both the times of request, transmission and those dedicated to redirects (it also depends on your hosting provider)
DOM processing: (DOM process) The time invested by the browser in interpreting the received code, and converting it into a DOM structure.
Page rendering: In this phase, the browser already knows what it has to show and begins to paint content.
It is not necessary to check each phase. You may access the data of the total page load time in nearly all browsers, as well as the corresponding to the hosting provider. We detail it in the following section:
How do I check the speed of my hosting?
In order to check this, you need to check the TTFB (Time To First Byte).
The TTFB measures the time we spend contacting our server (network latency) plus the time spent building the page (Web Application).
In this article, we explain in detail how to check the TTFB. It is a simple and fast query that can be carried out from your browser whenever you need it. In this way, you will know the impact that the hosting service has on the loading of your pages.
The TTFB should be between 10-200ms.
Is Wetopi a fast hosting?
It is a fact that one of the features most applauded by our customers is speed. It is an easy fact to check, as we have explained in the previous step, and it is also the first thing that the user wants to see.
The improvement is usually remarkable. For example, in one of the last migrations made, the TTFB has gone from 2.34s to 998.89ms (without adding any cache system).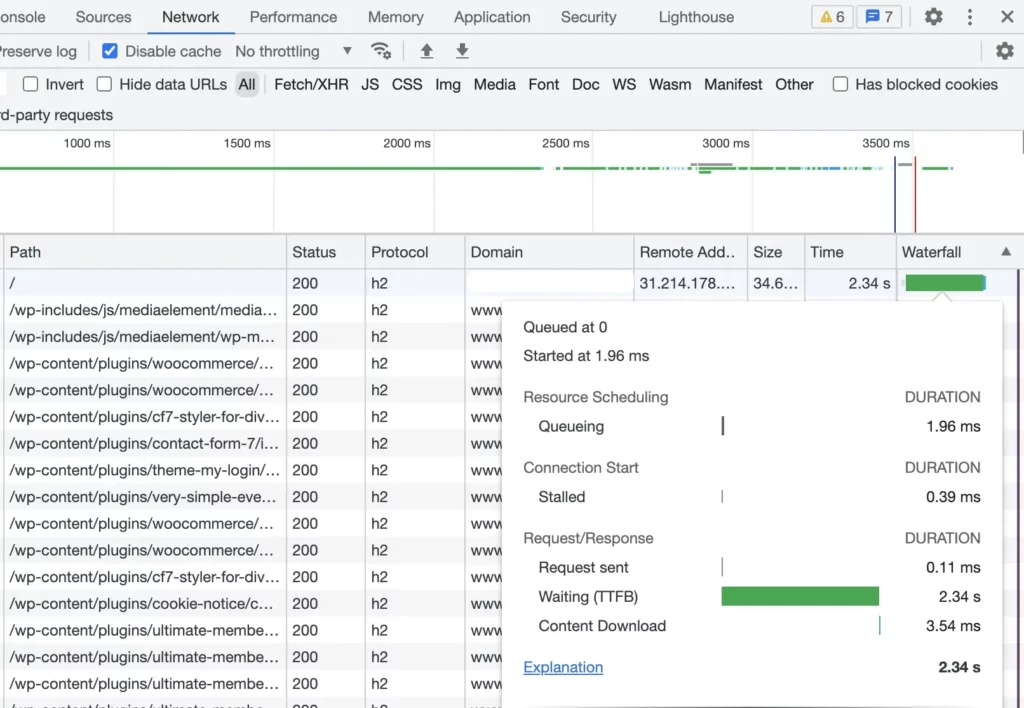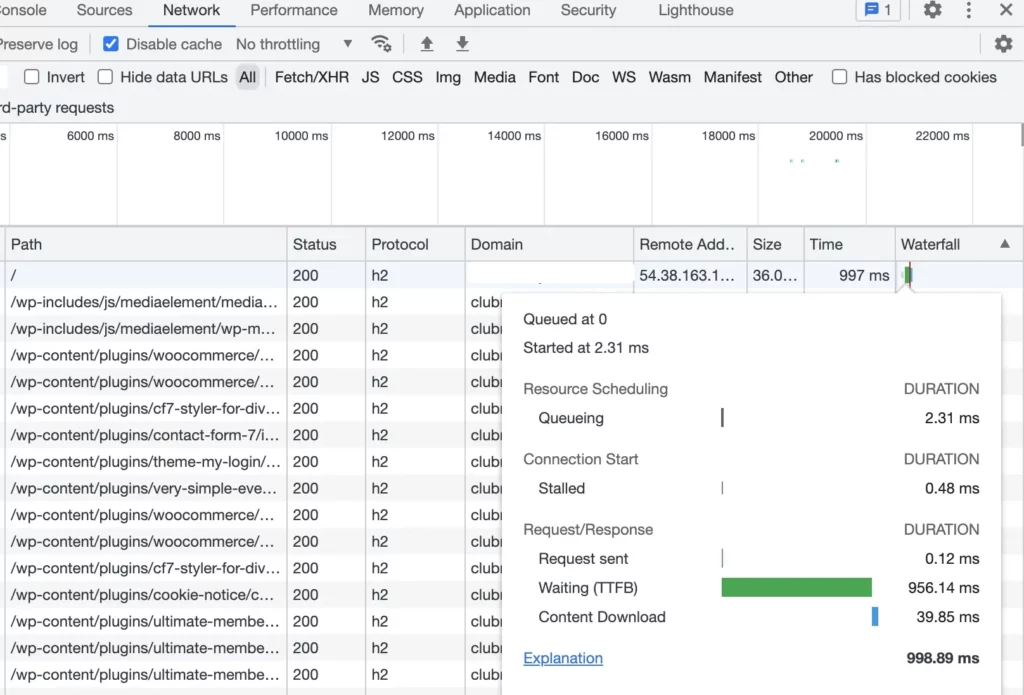 Page load time is a core factor in improving SEO and SEM campaigns.
Wetopi hosting services result in better conversion per click.

Josemi Sanz
At Wetopi, we allocate many resources to provide our service with speed and security for WordPress:
PHP-fpm and Nginx, configurated for WordPress.
Each server has its own resources.
HTTP/2 by default. Multiply your speed by 2.29 by working with a service infrastructure ready to run the latest HTTP/2 protocol.
More speed thanks to Brotli compression. Brotli beats Gzip in speed and compression capacity and thanks to reducing the size of the pages, it helps improve the speed of your website.
If you are a freelancer or devote yourself to digital marketing, you want to choose a hosting service that maximizes your effort as a professional.

wetopi.com
We are techies passionate about WordPress. With wetopi, a Managed WordPress Hosting, we want to minimize the friction that every professional faces when working and hosting WordPress projects.
Not a wetopi user?
Free full performance servers for your development and test.
No credit card required.