Security for WordPress is more necessary than ever. According to w3techs, WordPress already accounts for 65% of the managed websites market share.
And this large volume of WordPress installations, for malicious users tracking with robots, means a very profitable business.
But don't get scared!
It's not that hard to have a good level of security for WordPress. Let's show you how we do it.
Table of Contents
Our experience as specialists exclusively dedicated to WordPress
At wetopi, as WordPress hosting specialists with years experience, to achieve a good level of security for your WordPress we always follow these three rules:
Filter malicious traffic.
Maintain WordPress updated and scan filesystem with an antivirus.
Have a good backup strategy.
Let's dive deep into each one:
1

Filter malicious traffic

There are extensions for WordPress capable of effectively filtering traffic: WordFence, iThemes Security, All In One WP Security & Firewall, etc. But its big problem is the efficiency. Why?
WordPress is not designed to filter traffic!

If you want your WordPress to work fast, you cannot delegate such an intensive task as managing the control of every traffic request.
From wetopi, we take care of this task by sharing front firewalls specialized in security for WordPress:
Shared security
At wetopi we have our own security system, Bunker Guard, designed with the aim of concentrating rules and decisions from both our WordPress server network and from external sources dedicated to security .
Filtering and blocking traffic tasks are done in the front firewalls. Always in a previous stage, before reaching your WordPress server. Furthermore, these firewalls are redundant in each of the multiple access networks.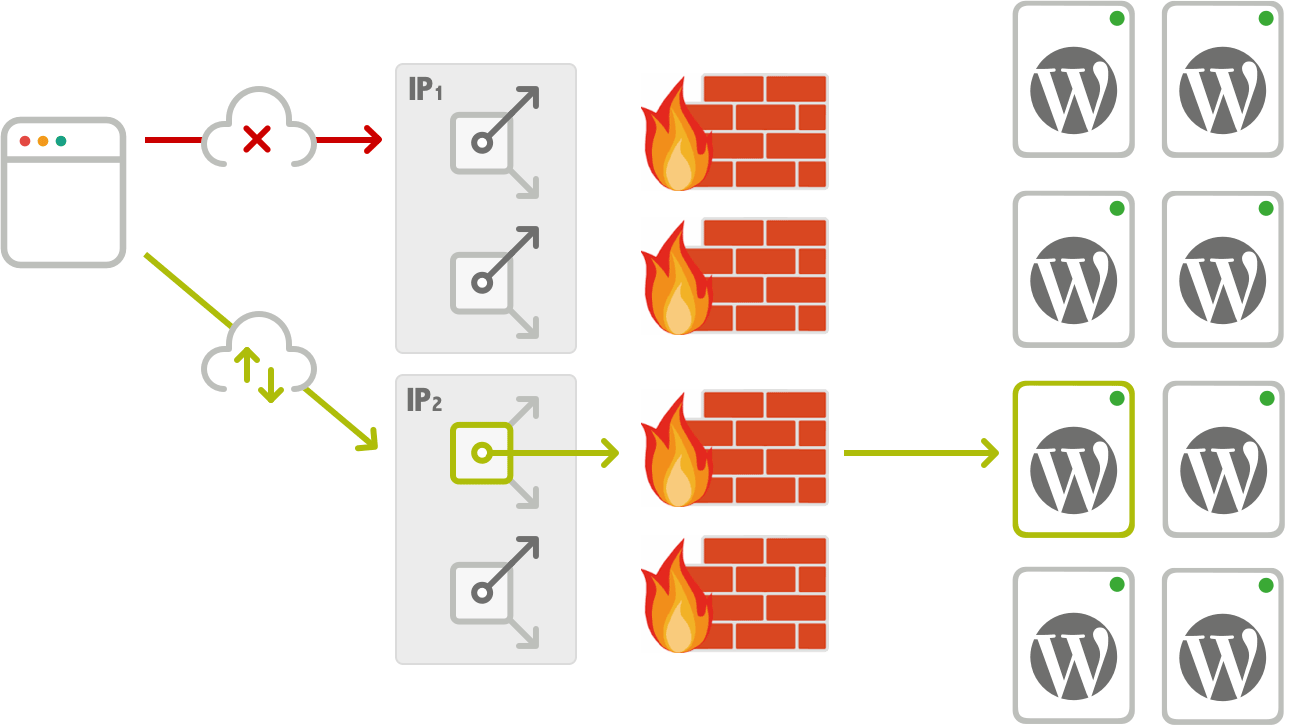 Bunker Guard, analyzes the traffic directed to all WordPress servers.
Firewalls adopt security measures dynamically, based on requests, and proactively, from previous experiences coming from external sources.
And here is one valuable aspect: Our entire WordPress server network shares this knowledge.
In other words, when is identified and blocked an attack on a WordPress website, the filtering rule created will protect all the wetopi hosted WordPress servers.
Another key is that wetopi exclusively serves WordPress traffic.
If a malicious crawler makes requests to see if your website uses Joomla, we directly block it.

At wetopi we only serve WordPress!

Serving exclusively WordPress traffic is one of our competitive advantages.
Blacklisting from external sources
Due to All Cybercrime IP Feeds by FireHOL at wetopi we keep permanently updated traffic blocking lists. These blacklists are mostly related to attacks, online services abusive, malwares, botnets, intrusion of servers and other activities related to cybercrime.
The blacklists, are updated every minute, blocking an average of 850,255,680 IP's
Mitigation of DDoS attacks
The wetopi data centers, have coverage for the mitigation of DDoS attacks through the use of selective filtering technology.
The selective method filters the received traffic, allowing only legitimate packets to pass to the WordPress servers, blocking illegitimate traffic.
DDoS analysis phase
To detect attacks, the traffic sent by the routers is monitored in real time. A continuous comparison of the signatures of the attacks is carried out. If similarities are detected, mitigation is activated automatically.
The analysis of the signatures is carried out in various protocols, such as: DNS, ICMP,"IP fragmentation","null" and"private","TCP null", RST, SYN, ACK, UDP, …
DDoS aspiration phase
In order to channel a denial of service attack, a large network capacity is required to support the load. Thanks to the 15 Tbit / s network of our provider, the infrastructure is able to absorb a large amount of traffic in attacks. The total mitigation capacity is greater than 4 Tbit / s.
DDoS mitigation phase
Mitigation is the means and measures taken to mitigate the negative effects of a DDoS attack on a server. Mitigating is about filtering traffic to let only legitimate traffic through.
Mitigation combines different filters, each of which has a specific function. This technology diverts traffic to analyze it and only lets through legitimate traffic.
2

Security for WordPress with updates and virus scans
Virus and Malware Scan
At wetopi we analyze the files on your WordPress servers every day to identify malicious code.

Even on free development servers. ! Try now!
You can access the log registry with a single click on"Virus scan logs", a button that you will find in the options menu within each of your WordPress servers.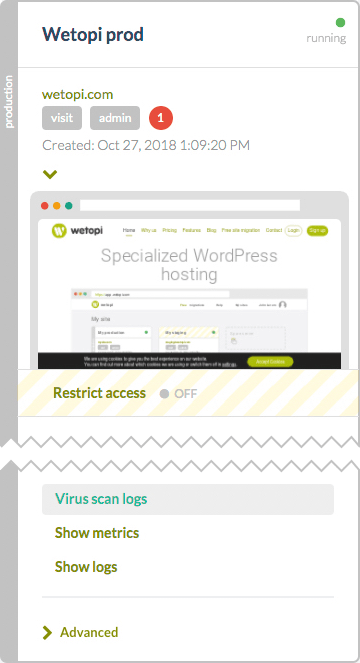 When accessing «Virus scan logs» a window will appear with the list of all the virus analyzes carried out:
If alerts are detected, WordPress server administrator users receive an email.
We help you update WordPress
Nobody doubts the need to update WordPress and its extensions and themes. But if we don't do it many times it is for a simple reason. Updates can break our WordPress site.
From wetopi, as WordPress hosting specialists, we help you eliminate the fear of updating.
Very simple. At any time, with a simple click, you can clone your WordPress server. With that you create a staging environment where you can experiment without breaking anything.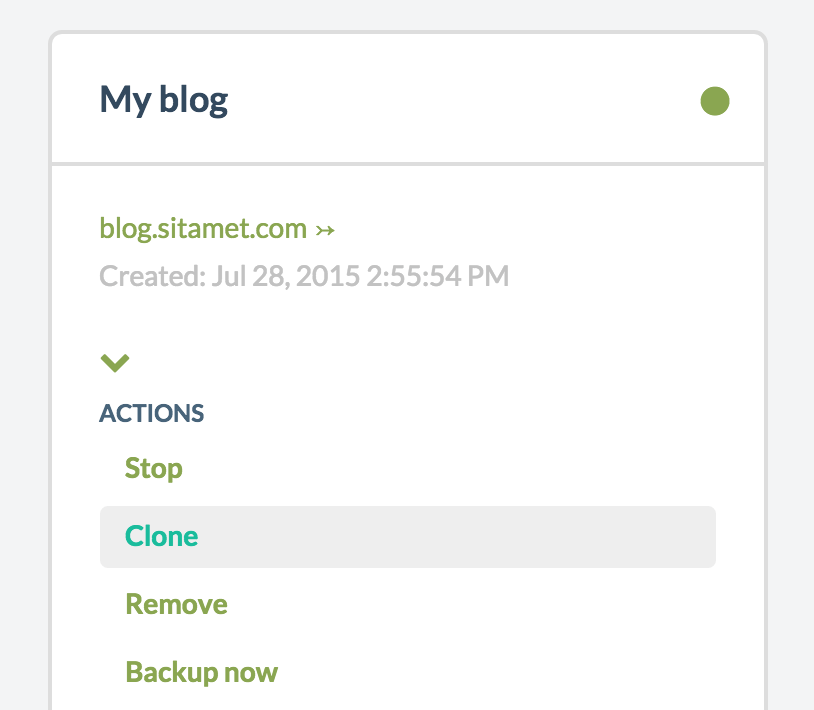 From the test environment you will be able to verify the updates that you consider sensitive or that may cause conflicts.
We show you the pending updates
If you manage several sites, it will be a great advantage to know in advance where you have pending updates.
From the wetopi panel you will see the number in red circle of those sites with pending WordPress updates.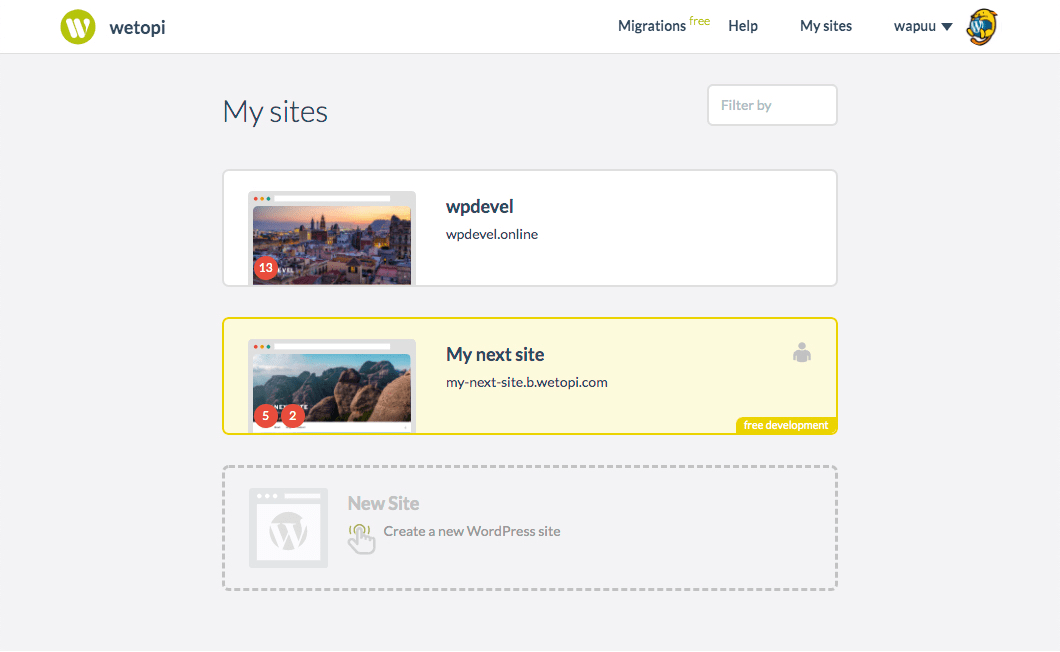 Remember: If you do not update Extensions, Themes, and the WordPress Core itself, you are opening security breaches.

Your WordPress server becomes vulnerable to threats and public attacks that are known to everyone.

It is equivalent to leaving the house keys at the door!
"Hack Free" Guarantee
As if all of the above were not enough, at wetopi we are committed to solving any security problem for free and immediately with the "Hack-free" guarantee included in our service policy.
To access the coverage of this guarantee it is necessary: ​​
Have a plan that includes servers of "Medium" size or higher.
Adopt basic precautions to protect yourself and your website from any Harmful or harmful content: it is necessary to keep up to date the updates that contain security patches in Extensions, Themes, and WordPress Core.
Security for WordPress requires a secure server
You probably already know that security does not end in that directory on the server where you have your WordPress hosted. And it is that the so-called service stack continues below your website served with WordPress.
There are many components and services that contribute to enlarging the angle of the so-called Attack Vector!
At wetopi we take care of the security of your server. By being able to work exclusively with WordPress we can efficiently automate the entire process of updating your server. In this post we show you how we do this: basic rules for WordPress website security.
3

Manage WordPress backups as a professional

Having a good wordPress backup strategy is essential. It is true that no one questions it anymore, but it is not an easy task and even less to do it correctly, that is:
with recurring backups,
that you can verify them and
not least, that they are stored outside the server, as possible outside the data center.
With wetopi, from the moment you start your WordPress server, you already have your backup plan in place with: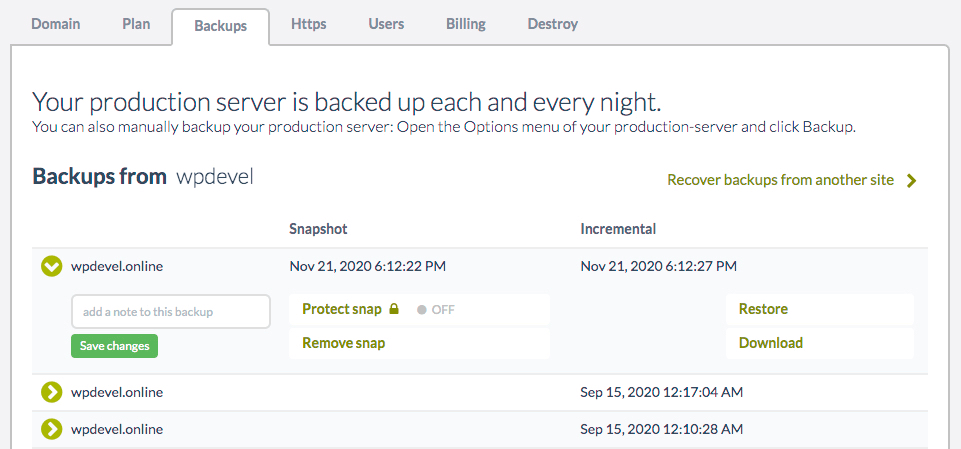 ---
We are techies passionate about WordPress. With wetopi, a Managed WordPress Hosting, we want to minimize the friction that every professional faces when working and hosting WordPress projects.
Not a wetopi user?
Free full performance servers for your development and test.
No credit card required.