If you have arrived at this post, it is because as a freelance professional or an agency, you have undoubtedly realised that choosing the Best WordPress Hosting Provider for your clients is a daunting task.
In this post, we will focus on the criteria to take into account to find the Best WordPress Hosting Provider for freelance, design studio or agency dedicated to the development and maintenance of WordPress websites.
Table of Contents
Criteria and Guidelines. Let's avoid the opinions
This post may contain "opinions", but let's focus on giving you "the tools" with which you, a WordPress developer or a design professional, can analyse the key aspects and decide for yourself what is necessary for a reliable WordPress hosting.
There are no reviews without an affiliate behind it
The hosting market is a competitive and aggressive market. The majority of providers compete with words such as Fast! , Cheap! Free this and free that.
Due to this, At times small and reliable provider like wetopi get drowned in the noisy web space.
Hosting companies created many affiliates and partners, allocating significant margins to feed the sale through this channel.
With taking into account, these worlds of reviews and comparisons, the most convenient thing to do are, avoid ranks and reviews. And provide you with a guide on ethical guidelines and criteria for a good WordPress hosting.
A firm decision with profound impact is required.
The selection of a good hosting provider is vital for freelance, professional or an agency.
Providing excellent hosting service to your clients will gain their trust and confidence.
That said, a bad choice can lead to a disaster that triggers loss of projects or much worse, damage your reputation.
So, Let's begin!
Top 5 criteria
1

Speed

Speed should not be criteria; we should consider it as an essential requirement in choosing a hosting environment for your WordPress website.

And it is best to find a hosting immediately which is fast, instead of waiting for your website to grow.

WordPress is a great blog/cms application albeit its voracious appetite to consume hosting resources. As you install more plugins, the most resource intensive it becomes.

It is necessary to take note, that what I have mentioned above are related to the hosting environment only. You have to take into account the hosting and the software side to optimise your website. With wetopi, we take care of the optimisation.
Php7-fpm + nginx
This is the best combination of server environment if you want to squeeze the processing capacity of the server.
Alternatives to nginx are Lighttpd or LiteSpeed.
Storage SSD (Solid State Disks).
As a professional, you spend a lot of time on the backend of your WordPress:
Those of us who manage complex WordPress sites, know how desperate it can be to work in the backend of e-commerce, a multilingual website or merely a WordPress with an overload of plugins.
Alternatively, you can install a cache plugin to speed up the website. However, it's not beneficial to the management of the WordPress site. The Caching feature benefits website users only.
SSD is something you should look into when looking for a WordPress hosting. An SSD based hosting will ensure speedy access to your website.
The TTFB test.
TTFB "Time to first byte" helps us to measure the time that we use in contacting the server (network latency), plus the page building (Web Application) plus the time networking takes sending us the first "block" or byte.
In this post on how to improve the speed of WordPress, we deal in more detail with the use of this metric.
To observe the test, you have to install a fresh copy WordPress and make sure to deactivate cache. TTFB should be less than 200ms.
Measuring the TTFB on the homepage of our WordPress serves as a comparison yardstick. The TTFB combines the construction time and the time it takes to get the first byte to our browser.
Attention, it would not be so exciting to look at the TTFB of an already prefabricated resource, e.g. a gif image. In this case, the process time is not very relevant; the image does not need to consult the database or use php.
TTFB test on the admin page.
WordPress Administration page, This is the place where the admin will spend most of the time conducting administration chores. The speed of the admin page is essential for an efficient workflow.
To measure the TTFB of the Admin site. Disable all browser cache and try to reload the page a couple of times.
We should get a TTFB less than 200ms.
2

Security and resource isolation
Dedicated server.
Opting for a dedicated server is the first option that comes to mind when we try to escape from a bad experience with a shared hosting service. Our recommendation is: opt for a dedicated server as long it meets the following rules:
The dedicated server includes administration and security. Or there is a sysadmin to manage the server.
One WordPress site per server. Avoid at all costs to turn your server into a "Shared Hosting".
Resource isolation.
If we can not afford one WordPress site per server, the alternative would be a good system which has the features of isolation of accounts and resources: i.e. CloudLinux, CageFS,
Firewall or reverse proxy capable of filtering traffic.
According to an incapsule report, 28.9% of internet traffic is malicious bots!
It is advisable to free your WordPress site from unwanted traffic. With this, you will reduce the consumption of resources and free yourself from potential attacks. For this, we have two options. The first is to add a security layer to our WordPress by installing a security plugin. The second, a more efficient method, have an external security layer. A reverse proxy that acts as a WAF, Web Applications Firewall.
In Wetopi, we use precise dynamic filtering rules for WordPress. These firewalls learn from the traffic directed to every WordPress and share that knowledge globally, freeing the entire internal network of non-legitimate traffic.
HTTP/2
Google has made it clear that it wants all websites to be in HTTPS.
The problem with that is HTTPS slows down the website performance. However, The HTTP/2 protocol has been created to solve this problem. HTTP/2 allows "Multiplexing" and Compression headers; this compensates speed for the use of TLS encryption. The major setback with HTTP/2 is, not all providers currently support it.
How to test for HTTP/2 protocol
With Google Chrome, you first need to enable it: open the DevTools by right-clicking any page and choosing "Inspect Element". Go to the network tab, right-click the columns in the and enable the "Protocol" column.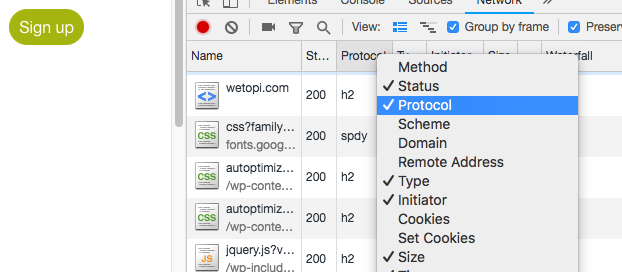 Once enabled, refresh the page, and it'll show you what protocols each resource are using.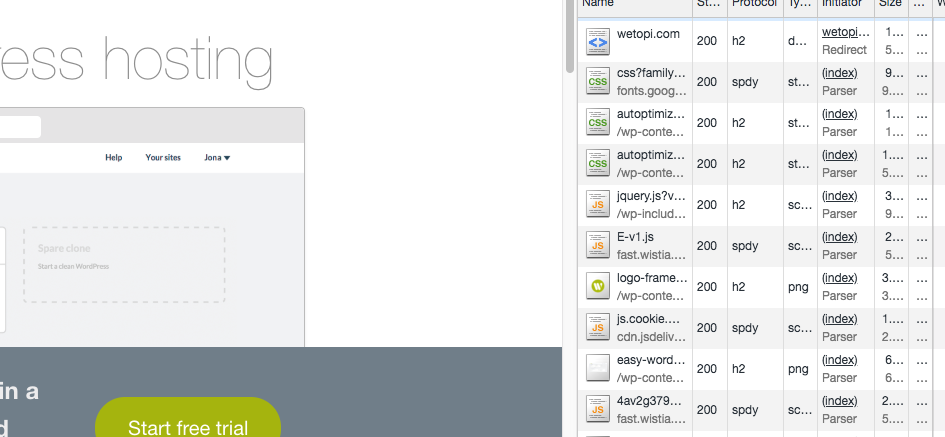 In the column corresponding to the protocol, we should read h2, http2 or quick.
A quick reminder;

HTTP/1.1: the "classic" HTTP protocol, known and loved for over 15 years
SPDY/3.1: Google's first version of the HTTP/2 spec, formed the basis of HTTP/2
H2-14: H2 stands for "HTTP 2", the 14 will refer to "draft 14" since the HTTP/2 spec isn't final yet
H2C-14: H2C stands for "HTTP 2 Cleartext", the HTTP/2 protocol over a non-encrypted channel
3

Support

When there is a problem, it rarely has to do with incidents such as the loss of service.

The problems which we usually waste most of our time are in; infinite redirection, blank page, excessive response times, intrusions, malware, data corruption, incompatibility of plugins, …

Criteria to follow:
Choose a service with specialised WordPress support.
Generic hosting providers lack technical knowledge on open source software.
Hosting providers generally only provide support on the hardware and operating system level. If you encounter a problem with your WordPress, they wouldn't be able to assist you in detail. Also, it is not economically feasible for hosting providers to have a support-centre or a specialised team in each of the applications hosted on a web server: i.e. Drupal, Joomla, Magento, Prestashop, WordPress.
Specialisation is key. Bear in mind that, as professionals, your level of WordPress knowledge will probably surpass that of most of the staff of a generic hosting services call centre.
We need agility.
"Agility" is defined as the ability to move, think and react quickly and easily. It might be the single most important characteristic in WordPress support.
Ideally, if we can speak or chat with a technician because we will avoid an escalation that is nothing more than climbing the hierarchy of the call centre until we reach someone who knows what we are talking about.
Beware of very cheap hosting offers.
In the beginning, cheap hosting sounds perfect for individuals and businesses. However, we have to ask ourselves the hard question, if it's a reliable solution? There is nothing wrong with trying to save some money with hosting, be cautious not to go very low, or it's you and your website that will suffer the consequences.
4

Time

Time is our scarcest resource. We must manage our time wisely.

How to reduce WordPress development and maintenance times?
Leap and develop the projects online.
Undoubtedly work online web projects, will allow us to reduce deployment times and will facilitate interaction and collaboration with the client throughout the process.
Work with a hosting ready for online WordPress development.
An excellent online development environment must be fast and have low latency. It is our time and patience that is at stake.
Caution: we all use the slogans "start free" and update to a professional plan when going into production. Be cautious! That the "free" development environment does not perform like the professional environment!
In wetopi, the free development environment and the final production environment has the same system resource configuration.
You are cloning to a staging environment.
The ability to clone your WordPress during development or maintenance processes allows us to reduce time and displeasure.
Today we have many ways to create WordPress copies. We must pay particular attention to the process. The question you should ask the hosting provider is,
Is it easy and quick to create a clone?
With Wetopi, we clone at infrastructure level (we replicate the whole server), and you can do it with a mouse click
Do not break your production site, staging environments are the solution!

To clone a WordPress site with Wetopi is as easy as a simple click.
Work with staging environment with few steps to production.
Any task, be to deploy a backup, test a new plugin in a clone, validate compatibility of an update, etc. It is important to be able to carry it out in a Staging environment that allows us, if it suits us, to turn it into production.
Other time savers
Suppliers are gradually breaking into the market with specialized WordPress management panels. Perhaps the disappearance of those complicated generalist panels seems to us a loss of functionalities, but we should not deviate from our objective: to reduce the times in our work cycle. Here are some features that will help you in this task:
Single Sign On. Unified access from the panel to the administration to all our WordPress.
Automated WordPress Updates.
Project transfer. Sporadic tasks such as transferring billing or migrating projects between accounts should be easy to do.
Automated backups.
Restoration of backup in Staging with a step to production.
Installation and management of HTTPS Certificates and simplification of link rewriting.
Collaboration. Systems that allow collaboration and teamwork.
For example, to be able to invite external developers without having to create access accounts ftp, mysql, WordPress.
5

Scalability

The infrastructure supports the process of upgrading the resources for a growing website
How easy is it to scale my server?
Can I upgrade the resource requirement on demand for a specific period?
Can I grow progressively without migrations or interruptions?
How much would the upgrade cost?
Do we lose the investment by interrupting the period of the service to which we are subscribed?
We are techies passionate about WordPress. With wetopi, a Managed WordPress Hosting, we want to minimize the friction that every professional faces when working and hosting WordPress projects.
Not a wetopi user?
Free full performance servers for your development and test.
No credit card required.