I have personally experienced the pain a broken site causes after updating plugins and/or WordPress core, my WordPress just died. I'm sure you have seen the error 404, 502, 503, 504, unable to connect to the database, CSS file goes missing after an update and so on. BTW, we deal with these errors too and help you fixing!
Clone WordPress site with wetopi, get in seconds a staging environment totally isolated from your production site without tools or plugins. This is a recomendation from experience and universal best practices for WP.

Joan Vega
Trust me, I have seen these an uncountable amount of times. To counterattack this problem, what can we do? we may manually create a clone site (ftp download and upload, create new folder) or keep a copy of it in the local drive. Then, we are able to test the outcome and do an update if everything looks good. However, that does not solve the error problem entirely, due to different set of configuration or settings, sometimes something or somewhere will possibly go wrong. Keep reading to learn how Wetopi has solved this.
Table of Contents
Introduction
Whatever can go wrong, Will go wrong – Murphy's law  and a quote from the movie Interstellar 😉
So, If we have to perform tasks on our WordPress website that involves risky updates and checking change, it is best to create a Clone of your WordPress site. In this way, you have a playground or staging environment to set whatever you wish to test. A place completely isolated from the production site.
If you feel 100% right, that the new updates works perfectly.. you can move the clone site to production site. Rest assured, you will have less gray hair with wetopi as your WordPress Hosting Provider 🙂
Alright let's get on, on how you can create a clone WordPress site.
A Clone of your WordPress site is a live and exact replica of your current WordPress site.
With your clone WordPress site, You are able to test and test as if its a live site.
Bear in mind, it is not only the exact replica of your website, its the exact replica of the whole server, service configuration and infrastructure where you website is hosted on. This is one of our greatest feature that we are very proud of. Not all cloning features out there does this level of deep replication like wetopi.
The cloning process in video
View the cloning process in this 45-second video or jump straight into the step-by-step instructions:
When do we clone a WordPress site?
Ideally, its best to clone the WordPress site before carrying out any task that could break the production WordPress site. For example:
If we need to do an update to WordPress, plugins or templates, … better to do it on a clone site first!
If we want to experiment with a new templates, plugins or just to play around with it, …it's highly advisable to experiment on a clone site, so we do not disrupt other users, nor mess up our WordPress site or leaving traces of unwanted codes.
If we need to urgently solve a problem: We can create a couple of clones and ask our developers to assist us. Both extra cloned servers can work in parallel and in isolated environment and our developers can try whatever they need without interfering each other or breaking our production site.
How to clone your WordPress site?
There are several ways to clone our site: Xcloner, Duplicator, WP CLone, etc. They are plugins that facilitate the task, but their weakness is that they require some skill and time.
If cloning our site means Time and Effort …
Then we take the fast path putting on risk our production site
or even worse:
Fear wins and we postpone the task.
In wetopi, to clone a WordPress site, is a task of one click and a few seconds.
Time or technicalities are no longer an inconvenience! There is no excuse!
wetopi clone system is so easy that we'll carry out any risky task on a clone.
Each wetopi account has three servers. The one called "production" is our web "live" production site. The others are "extra servers" that can be utilised to clone your site.

To create a clone, access the "Options menu", then click on the "Clone" action: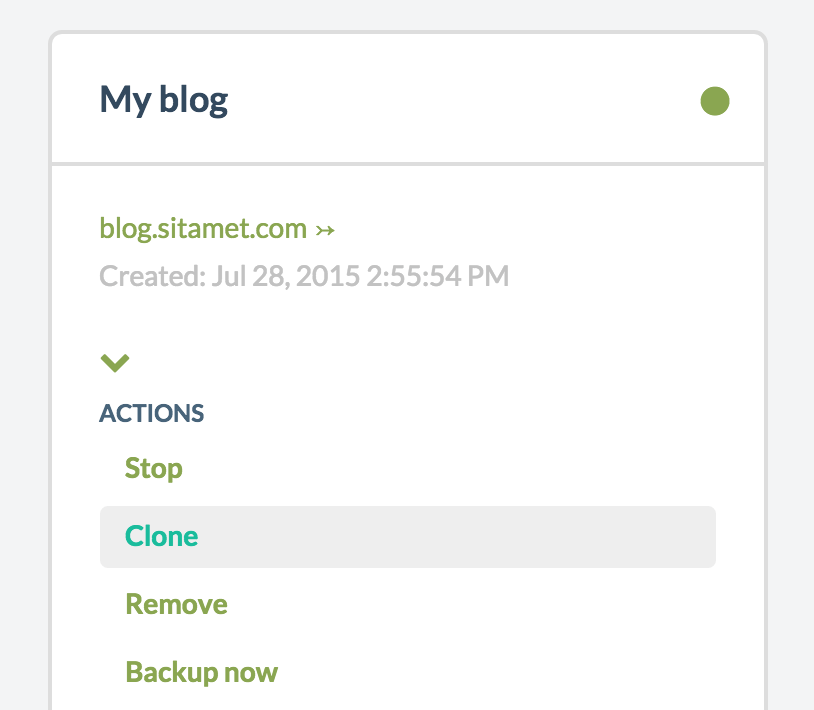 After 10 and 30 seconds (depending on the size of your site), the new clone site will be up and running under a subdomain of wetopi.com, eg demo.a.wetopi.com:

This is an exact replica of the original server. The only thing that distinguishes it from the default is the URL. Likewise with our production server, the option menu shows the available actions and new server credentials we can use to access to the services: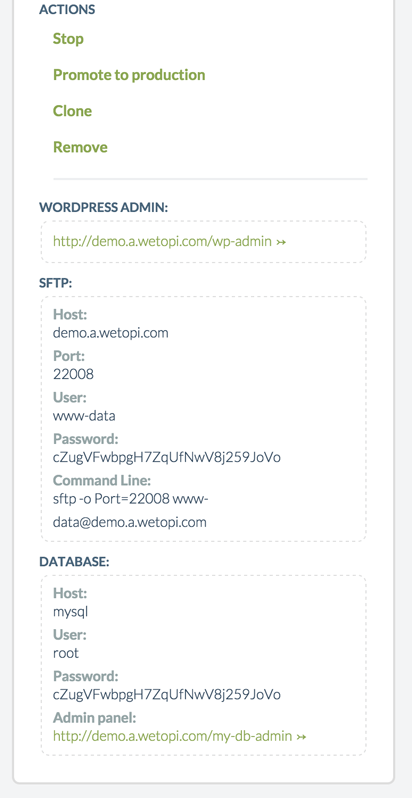 (note: access data and users of the WordPress administration space will be preserved).
A clone can be moved to a production environment.
So, you have a great success in updating your site template or plugins, and you are happy with the outcome. No bugs and ready to rock the world wide web.
Awesome!
We have not wasted our time with manually recreating the duplicate site or testing or breaking the production site. Some webmasters even messed their website forever; You should not leave a security/integrity protocol for updating or testing on your WordPress site: you never know where a new plugin conflict or whatever bug is hidding behind the very next corner.
Cloning
With wetopi, we can Promote a clone to a Production in a few seconds. it then can start serving our main domain (the one that we have assigned to the site).
We can find this option in the Options menu of our clone:

We are techies passionate about WordPress. With wetopi, a Managed WordPress Hosting, we want to minimize the friction that every professional faces when working and hosting WordPress projects.
Not a wetopi user?
Free full performance servers for your development and test.
No credit card required.