Goal: Change the Domain Name of your wetopi WordPress site.
Resources: 5 minutes of your time + 1 wetopi server (signup and get your free developer servers)
Table of Contents
---
TL;DR: How to change the Domain Name of a WordPress site
Table of Contents
Set the Domain Name of your WordPress site, step by step:
Let's say you have developed a WordPress site with your free wetopi development server using one of our temporary subdomains e.g., http://wp-viva.b.wetopi.com and now you want to publish it with your domain e.g., http://wpviva.com
1

Log-in to your Wetopi panel

Login to your Wetopi account: https://app.wetopi.com
2

Go to your wetopi Site admin page

In your Wetopi panel, click over the site box to jump to the detail page.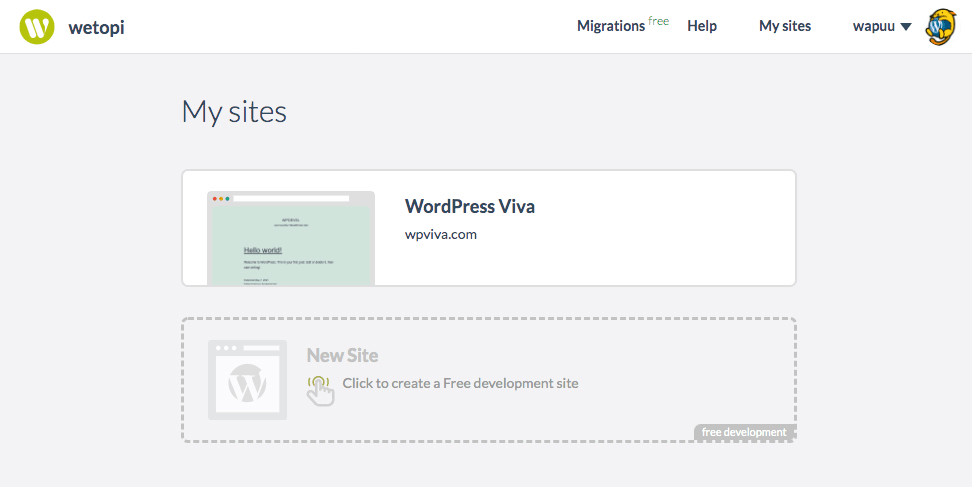 3

Modify the Site Domain and Redirections

Then click the "Domain" tab in your "Site options" bottom section. Then click the "Modify site Domain and Redirections" button: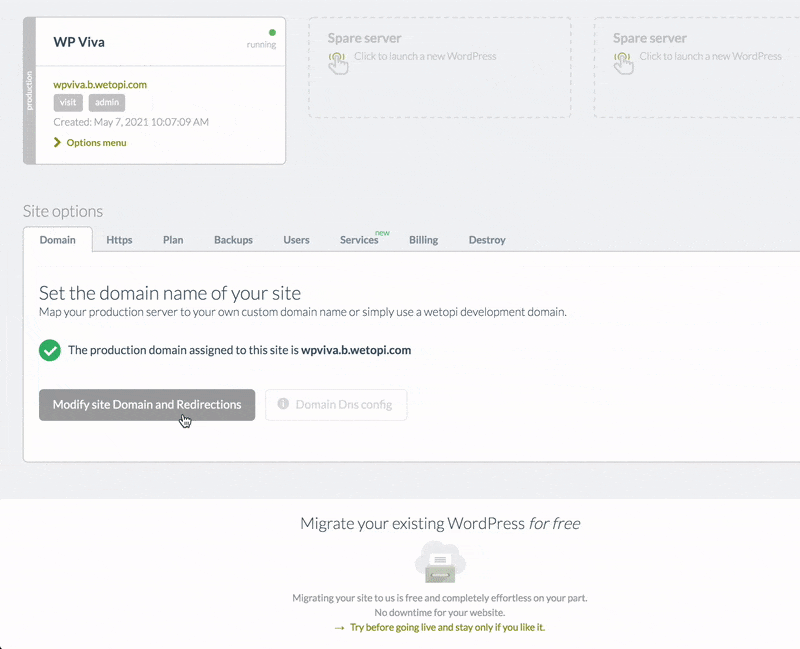 In this step by step, we will use our new domain: wpviva.com
In "Your own domain" the domain name you want to assign to your WordPress site. e.g. wpviva.com
In "Domain redirects" a space-separated list of alternate domains or subdomains. All these domains and subdomains will jump to the production domain you designated in the previous "Your own domain" field. e.g. www.wpviva.com
Optionally you can fill in the "Domain alias" with domains your WordPress will manage. i.e. when running a WordPress multisite network or a multilingual Plugin.
4 Update the DNS zones
Once you Save the new domain, wetopi will alert you if your new domain DNS zones need to be updated:
This is the most difficult obscure step!
To make it easier, wetopi will give you all the info needed to Configure your DNS Zones. Click the "Domain Dns config" button to show the DNS record guidelines of your domain:
Our wpviva.com has its DNS servers with Cloudflare, and this is how it looks like when applying the new Domain DNS zones: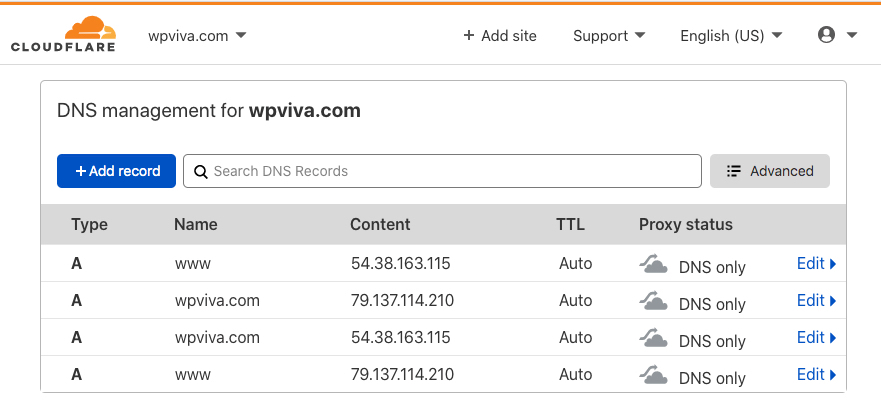 Important: when you update a DNS Record/Zone, it takes time for the changes to take effect. Your DNS server has a default refresh of minutes or hours, but due to various factors, it can take more time to propagate.
Click the "Check again the Dns record propagation", to check if your DNS Records/Zones are propagated.
Just because you set it at your registrar level doesn't mean that the rest of the Internet knows your domain has a new address. It takes a while, sometimes up to 2 or more days for every machine in the world to catch up with the changes. You can check the dns propagation time on this external site: https://dnspropagation.net/
5 Promote to production
Once your domain is propagated, wetopi show you all green:
By default, wetopi will try to "Promote" your WordPress server to use your new "Production" domain. If not, open the clone "Options menu", and click the "Promote to production" button: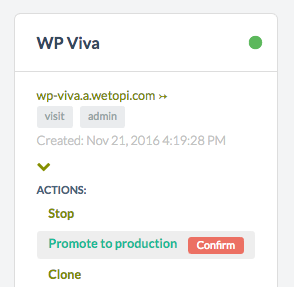 During this action, wetopi will configure the WordPress site with the new domain, and then it will rewrite the URLs of all posts, media, links, etc. affected by this domain change.
This action will take a few seconds (something between 15 and 60 seconds, depending on your website size).
IMPORTANT: There is no need to touch your Web Server config, wp-config.php file, or update wp-options records in your database.

When "Promote to production" wetopi will do all these tasks for you.
---
We are techies passionate about WordPress. With wetopi, a Managed WordPress Hosting, we want to minimize the friction that every professional faces when working and hosting WordPress projects.
Not a wetopi user?
Free full performance servers for your development and test.
No credit card required.