Goal: Discover how to restore WordPress from a backup, preview the backup without troubling your production site and finally moving it to production.
Resources: 1 minute of your time + 1 wetopi server. (sign up and get your free development server)
Table of Contents
With all Wetopi plans, you have Amazon S3 backups you can easily restore.
Best part is that:
Restoring backups with Wetopi is extremely easy.

It's 2 Clicks of a mouse!
You can jump to the 30 secs video explanation or discover more about wetopi backups with:
Things you DON't need to do:
You don't need to install any WordPress Backup Plugin.
You don't need to touch your production site and disturb your current users.
You don't need to reinstall your WordPress.
You don't need to fill any config form.
You don't need to touch a line of code.
You don't need to rename links, resource paths.
You don't need to touch your WordPress database.
All the steps
1

Log-in to to Wetopi

Login to your Wetopi account: https://app.wetopi.com
2

Go to the site panel

Jump to the detail page of the site you want to restore.
3

Go to the Backups tab

And find the backup you want to restore. Then click the "Launch a server with this backup" link:

4

Review your Backup before promoting to production

When you restore a backup, you are launching a completely new server. This way, your production server, the one with the real domain and real users, is not modified at all. This gives you time to preview and check if your restored backup is what you want.

At any time, once you are confident with the restored backup sever, you can replace it by your production server. This is what we call "Promote to production". You'll find this option in your server "Options Menu":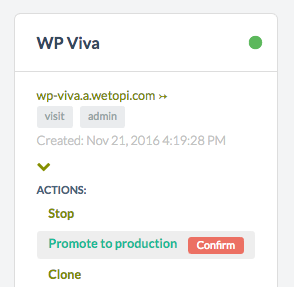 Watch it live:
With all Wetopi plans, your WordPress Site will be automatically backed up each and every night.
You can also launch 1-Click backups! all it takes to begin backing-up is a single mouse click.
And you will have up to 15 days of backups stored on Amazon (durability of 99.999999999%).
We are techies passionate about WordPress. With wetopi, a Managed WordPress Hosting, we want to minimize the friction that every professional faces when working and hosting WordPress projects.
Not a wetopi user?
Free full performance servers for your development and test.
No credit card required.