On this post, we'll expose you to the latest wetopi platform changes, but before that, let's start with one of our most significant updates.
It has been six months since our last WordPress server design upgrade, and we were observing the performance results from our customers. We have concluded to make a small change in our server plans based on the unexpected over the top performance result!
Don't panic just yet :), please continuing reading
Table of Contents
This past November 2018, we upgraded our wetopi server architecture with components and services oriented to maximize resources and speed (read more at Ready to skyrocket with our new WordPress server upgrade?).
At wetopi, every WordPress site you launch is launched in a standalone virtual private server.
Means, you are not sharing the resources with your other WordPress sites, and you are not sharing the resources with other wetopi users.
If you make a balanced combination of plugins or enable caching, you can surpass by far from our suggested number of visits.
In April 2019, we decided to get real server usage statistics from a few customers and put the results in contrast with our suggested number of visits. The result was surprising!
Our upgraded wetopi servers can handle much more visits than we anticipated and as suggested in our pricing page.
Our pricing page and plan selector now reflects a much higher suggested number of visits.


More granular bulk plans
In order to make it easy for you to scale on bulk plans, we have decreased the lap adding intermediate plans:

Wetopi wallet credit goes first
Wetopi manages its own wallet. You can purchase credit, or get it from your referrals. Your wallet is also used as the recipient when you cancel a subscription (we refund all the remaining hours of your subscription plan).
Your wallet always has been the first option to deduct credit, when you have enough funds for the full purchase.
And now you can use wetopi wallet credits to partially pay for your services.
i.e if you have 6€ in your wallet and you buy a 10€ plan: You can opt to pay 5€ from your wetopi wallet and 5€ from your credit card (we leave some cash).
Introducing our most wanted features page
We want to give our users a voice, to understand your needs, and determine your most common pain points.
That's why we are introducing the most wanted feature request panel. On this page, you can suggest and vote for the ideas you like the most, helping us to understand the need behind the requests and tailor and prioritize our feature development.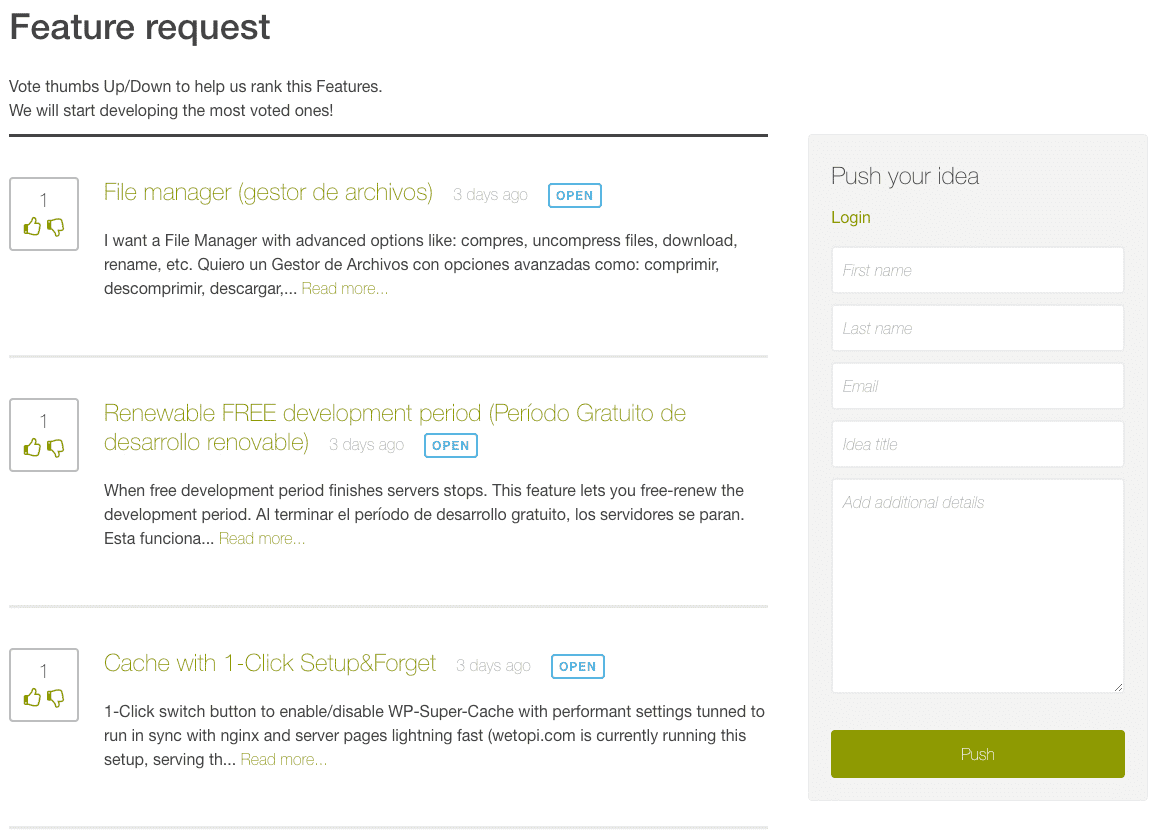 We can measure the urgency of each feature request with your help.
Https enabled on development domains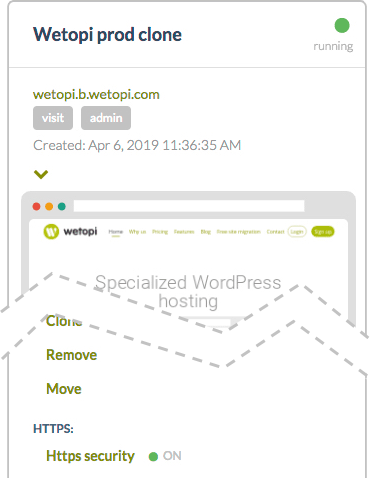 With wetopi, when you restore a backup or clone production, a new server is launched. This new server by default gets assigned a called, development domain. These development domains look like mysitename.b.wetopi.com
Now, all your servers with development domains will have https certificate by default
Similar to the standard domains, you can enable/disable Https with a simple click in the "Https security" link you'll find in the options menu of your server.
Better Cloudflare compatibility
We at wetopi are a big fan of Cludflare. They provide first-class anycast DNS service with pull CDN from its starting free plan.
Wetopi infrastructure is fully compatible, but now, to make things easier, your panel identifies Cloudflare CDN and gives you instructions on how to properly setup the https security.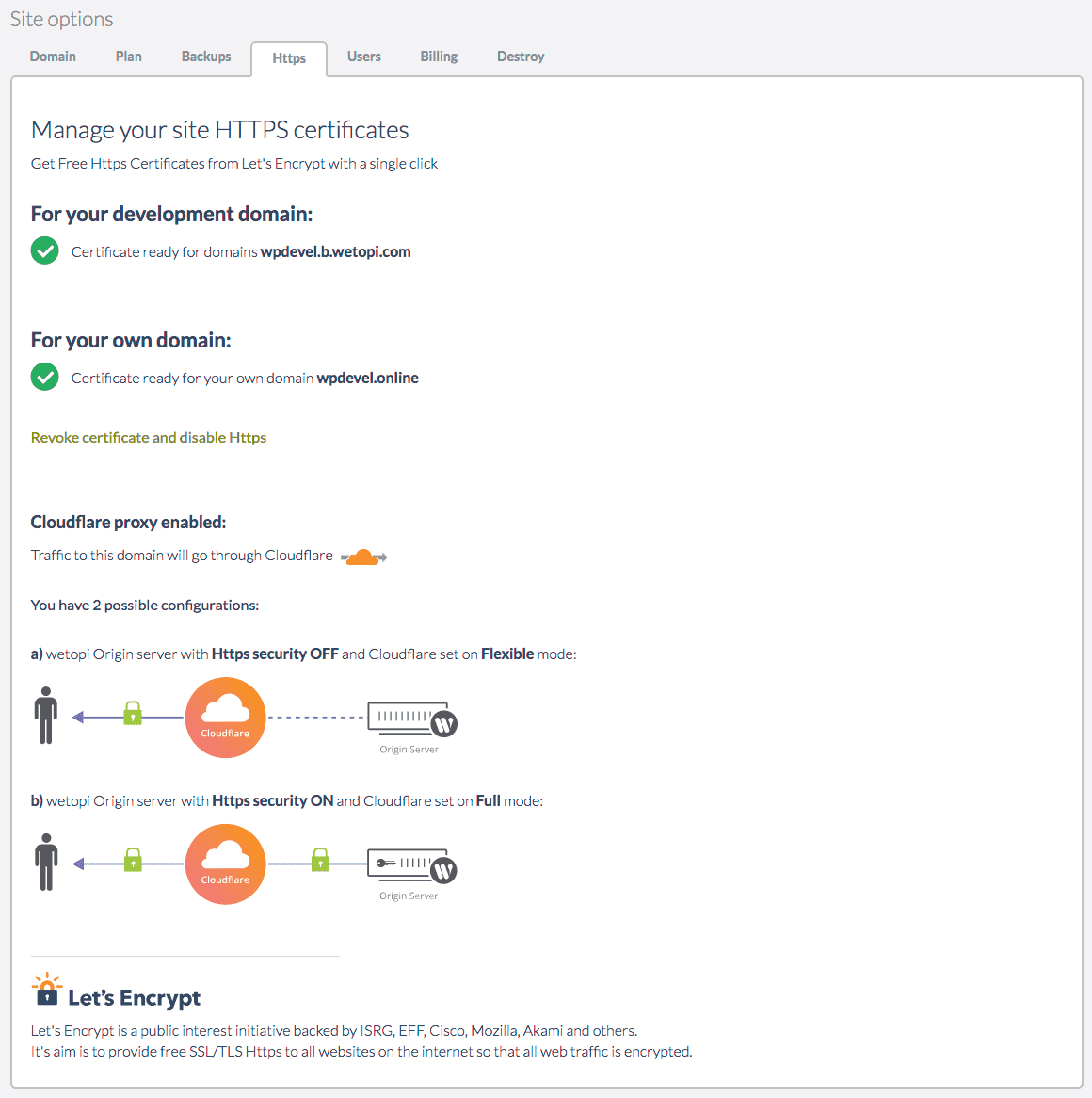 ---