SiteGround alternative:
SiteGround is one of the most popular and highest rated hosting providers in the WordPress community, but:
Get 26 additional benefits by choosing Wetopi.
1

Each site on an independent server

Each WordPress runs on a VPS-like machine ensuring its resources that no one can bog down.
1

Shared servers

With SiteGround your site shares the server resources and security with other customer projects.
2

Modern clusterized architecture

Your WordPress gets its own resources and isolation by running on its own containerized VPS floating in a clusterized infrastructure.
2

Traditional architecture

SiteGround shared hosting server infrastructure gets virtualized using LXC and cPanel software.
3

Auto-scaling infrastructure

Your containerized WordPress server can scale-up or down to allocate resources. With a single click and NO additional hidden costs. You scale up for 1h, you only pay for 1h.
3

No Scaling

When you need more server power at SiteGround you may have to migrate from a shared environment to a cloud hosting
4

Unlimited Visits

You get a server with its own resources. If you make a balanced combination of plugins or enable caching you can surpass by far our suggested number of visits.
5

Auto-healing

If your server goes down, the auto-healing assigns a new clean machine to your WordPress

You get INSTANT solution to server failures.
5

Manual server fixing

You get Manual response to server failures. If your server fails, the support team is responsible for solving the problem manually.
6

Network redundancy

Like big websites, you get 2 IP addresses pointing to your site. If an external accident, hack, attack, blacklist, etc. blocks one IP route, browsers silently jump to the second. (more info)
6

Single network access

With SiteGround, if your IP address gets blocked, your site gets inaccessible.
7

HTTP2 TLS 1.3

You always get the latest infrastructure advantages: TLS 1.3 gives you more speed and security (more info).
8

Top-notch worldwide latency

When serving pages without a CDN service, it's essential to get a performant network infrastructure.

Wetopi performance test from SUCURI CDN point of view shown below: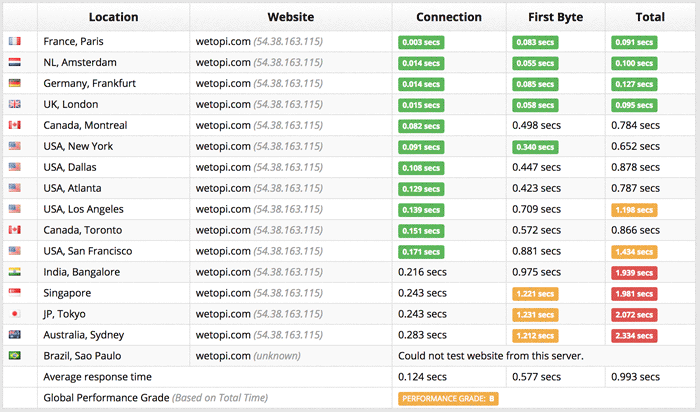 https://performance.sucuri.net/domain/wetopi.com
8

Less performant network latency

Siteground networking infrastructure has a higher latency.

This forces you to choose a data center close to your audience and when serving worldwide, to add a CDN network service.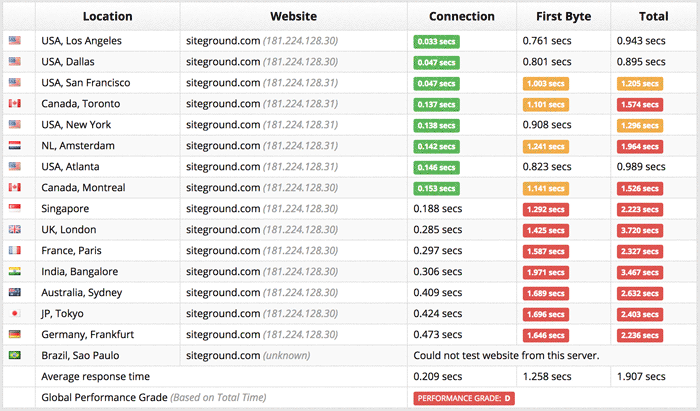 https://performance.sucuri.net/domain/siteground.com
9

CloudFlare Free CDN

Your WordPress server is ready to work with your CloudFlare account: Zero configs, Zero plugins.
9

Free CDN (aka standard CloudFlare Free)

A cPanel plugin to configure your CloudFlare account. You get almost same user experience as login to cloudflare.com
10

External WAF in all plans.

You don't need to bog down your server resources with Firewall plugins trying to clean and protect your traffic.

Your site gets double protected with dedicated WordPress WAF rules and by blacklisting feeds filtering non-legit traffic like blocking attacks, on-line service abuse, malware, botnets, command and control servers, and other cybercrime activities.
10

No external dedicated WAF

SiteGround uses Apache ModSecurity module as a Web Application Firewall. Rules must be relaxed in order to work well with all variety of customer applications (more info).
11

Signup in 10 secs

4 FIELDS form, no credit card.
11

Long Signup and pricing with hidden costs

Pricing page says Startup is: 3.95 €/m (Normal 9.95 €/m)

During signup, you'll discover it is: First year 3.95€, then 9.95€

Plus a hidden cost: if you don't pay 12 months upfront you have to add 12€ more (video)
12

 FREE development servers.

You get FREE full performance development servers: same performance experience as with paid servers.

Once you finish a development, you can publish and transfer billing to your customer in seconds.
12

 No Free Trial

No development servers.

When you build a site, you either develop in a localhost environment or shared hosting account. Once you have completed the development, you have to spend time migrating to your customer's account.
13

Staging Included

Staging Included in all accounts, even on FREE development plans.
When you create a site, you get 3 server slots. –1 for your production and –2 additional servers you can use for your staging environment.

13

Staging only on GoGeek

With SiteGround you get staging environments Only on GoGeek (29.95 €/mo.)

Caution: You must have enough room. Staging sites consume your storage and CPU resources.
14

FAST staging cloning

Your clones are full server replicas. You get a rapid cloning thanks to modern snapshot storage techniques (more info).
14

SLOW and complex staging creation

SiteGround creates your staging clones in the same server via resource intensive filesystem copy/rsync processes. The process involves a few steps and takes time (online manual)
15

 WordPress Multisite staging

You create a replica of your WordPress Multisite in a full server replica with its own development domain.
15

No WordPress Multisite staging

With SiteGround you can not have a staging environment for your WordPress Multisite
16

 In-house plus external backups

When you back up, wetopi creates an in-house incremental backup. Then this same in-house backup syncs to Amazon S3.


Your WordPress server performance is kept intact. wetopi creates backups from snapshots without wasting your precious WordPress server resources.
16

 No external backups

With SiteGround backups are stored in-house. You have to overload your WordPress with a plugin to store backups on sites like Amazon S3 or Dropbox.
17

Unlimited on-demand backup

You'll feel safe because you can backup as many times as you need with a single click.

We include backup features in our FREE development servers as well.
17

 On-demand backup only on GoGeek

With SiteGround you get on-demand backups on GoGeek (29.95 €/mo.) or superior plans.
18

Backup restores Included in all plans

When you buy a plan you get 3 server slots. 1 for your production and 2 additional servers you can use for backup restores.
18

 Backup Restore not included in basic plans

With SiteGround you pay $19.95/17.95€ per restore on StartUp plan.
19

 Backup Previews

Feel safe and preview the content of your backups before sending changes to production.

You always restore backups on a new server. If you like it, with a single click, it goes to production.
19

No Backup Preview

Be careful when you restore a backup, with SiteGround you are replacing your production server content.
20

 All plans have Free Hack Fixes

In the rare event of a site getting hacked at wetopi, our WordPress experts will quickly and carefully remove the malware for you. For free.
20

 No Free Hack Fixes
21

 Dual Uptime monitoring

Your server services have a 10 secs heartbeat. If something fails the auto-healing orchestrator rebuilds your virtual server and moves it to a safe and functional place. In seconds!

A second WordPress heartbeat verifies your WordPress site. When something fails, our monitoring team gets an alert.
21

No WordPress site monitoring

No WordPress site monitoring, only host services monitoring.
22

 Manage all of your sites with one login

All the sites you own and the ones you collaborate on are available to you in one easy-to-use dashboard panel.

22

No multi-account management.

You don't have access to your customer's or collaborator's server accounts.

You are restricted to manage addon domains using cPanel and starting on GoGeek (29.95 €/mo.)

With addon domains, you are sharing your server account resources.
If one WordPress site exceeds the usage, all your domains stop working.
23

Build a team of collaborators

Add teammates and clients as collaborators, and they'll get full access to manage the site, update files, and manage the database.
23

No account collaboration

Manage your team with the clunkiness of passwords sharing and storing and losing and recovering…
24

 WordPress Single-Sign-On

You and your collaborators don't have to deal with WordPress login details and passwords.

Your wetopi login grants access to all your sites.
24

No WordPress SSO.

If you want to save time managing your customer sites from one account, you need an external service.
25

 Restricted access without passwords

Do it fast. Restrict the access to your WordPress sites with a Single click and Zero plugins.

Say goodbye to usernames and passwords, and you get a shareable link to let anyone access the site.
25

No WordPress restricted access.

You have to install and configure an additional WordPress plugin.
26

Easy server log access

If something goes wrong i.e. appears the White Screen of Death.
You can instantly open a searchable log window and find the php error: view this video
26

Non-easy log access.

With SiteGround, first you have to enable error reporting, and then check your logs via SSH, FTP, or the File Manager.
Includes Free Development Servers – No credit card required
SiteGround alternative