Objetivo: Cambiar el nombre de dominio de WordPress renombrando todas las url
Recursos: 5 minutos de tu tiempo + 1 servidor wetopi. (regístrate y usa tu servidor de desarrollo gratuito)
---
TL;DR: Cómo cambiar el nombre de dominio de WordPress
Cambiar el nombre de dominio de nuestro sitio WordPress, paso a paso:
Changing our domain name i.e. from http://wp-viva.a.wetopi.com to http://wpviva.com requires the following 6 steps:
1

Log-in to to Wetopi

Login to your Wetopi account: https://wetopi.com/app
2

Go to the site panel

Let's go to the detail page of the site we want to change. From this Wetopi page, we will manage the Domain Name. There is no need to touch our WordPress admin configs or update obscure records in our database, Wetopi will do all this for us.

In this step by step, we are renaming from a default subdomain: wp-viva.a.wetopi.com to a newdomain.com of our own.

So let's tell Wetopi «I have my own domain».
3

Clic on Change current domain button

You'll find it in the «Domain» tab. Then select the option — Point this site to: «my own domain«, fill the input field with the «vwpviva.com» and press «Save»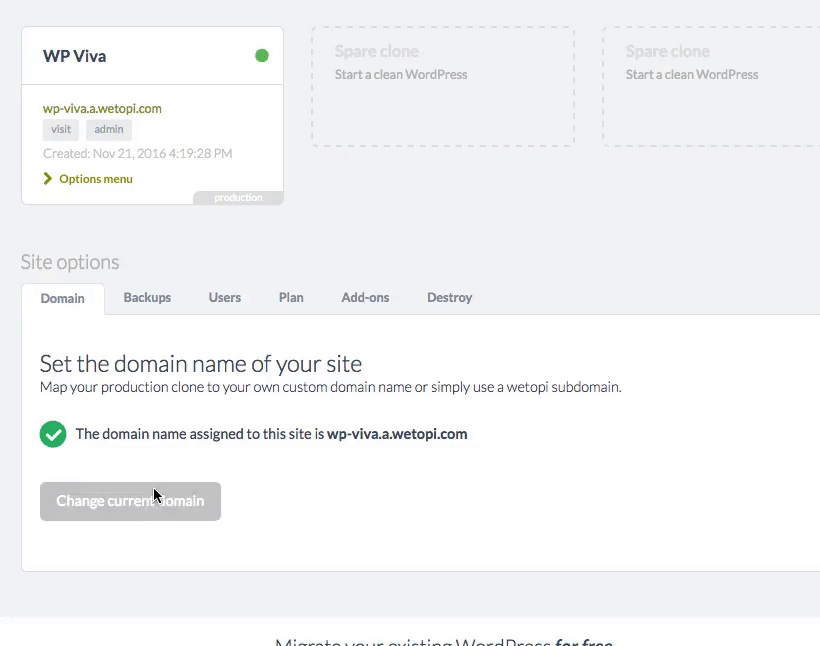 4

Promoting to production

Once Saved, It's time to «Promote» our wetopi clone to let him use this new «Production» domain. That's the action called, «Promote to production».

Open the clone «Options menu», and click the «Promote to production» button:


During this action, wetopi will configure the WordPress site with the new domain and then it will rewrite the URLs of all posts, media, links, etc. affected by this domain change.

This action will take a few seconds (something between 5 and 15 seconds, depending on the site size).
5

Checking the domain

Once finished. Our clone should display its production badge (right bottom) and have its «newdomain.com» link: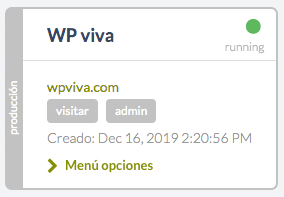 6

The DNS

​
Wait! One more step. We have to modify our domain DNS.

Our WordPress clone is ready to accept traffic on its new wpviva.com but we must tell the World where to go to find our WordPress site named «wpviva.com». It's time to change the DNS.

This is the most difficult obscure step!
In order to make it easier, wetopi will show us an alert and the Fix-me button. This will redirect us to a page with our own data and dns details. You'll find this page in the bottom "Domain" tab: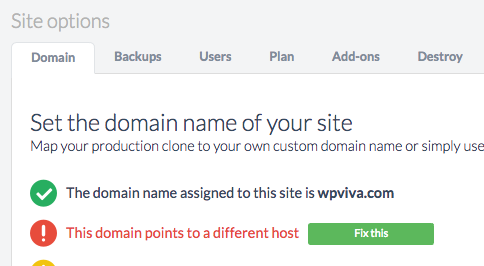 You will jump to a dedicated how-to page with all the DNS details adapted to your own case: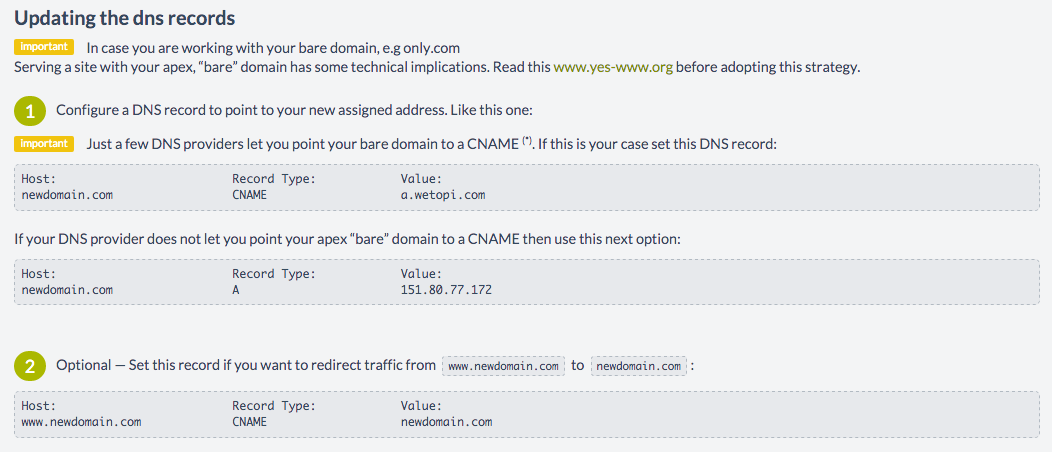 Once you've set your name servers, you're done. Yes, you read that right. That's all there is to it. You'll have to wait a bit, though, before you can access your website using your new domain name. Just because you set it at your registrar level doesn't mean that the rest of the Internet knows your domain has a new address. It takes a while, sometimes up to 2 or more days for every machine in the world to catch up with the changes.
Resumidamente, somos unos techies apasionados por WordPress que hemos creado Wetopi, un hosting especializado en WordPress, para minimizar la fricción a la que todo profesional se enfrenta al trabajar y alojar proyectos WordPress.
¿No tienes una cuenta en wetopi?
Prueba gratis - Descubrirás una manera eficiente de trabajar con WordPress
Incluye servidores desarrollo Gratis.
Sin tarjeta de crédito.
---
---
​