As a developer, I've to admit it: I prefer to write code than stories. That's the only reason this post, full of positive advances, was waiting as a draft!
Table of Contents
let's start:
Safely upgrade to the super fast PHP 7.3
This past month we have added the latest super fast PHP 7.3 engine.
Now you can easily test your WordPress site in the latest PHP 7.3 engine. This new engine version is proving to be faster than PHP 7.2. And if you compare PHP 7.3 to PHP 5.6, it can serve almost 3x as many requests per second!
Easy access to your WordPress error logs
Wetopi collects all traffic activity and WP engine error logs using Elasticsearch
Elasticsearch is a search engine based on the Lucene library. It provides a distributed, multitenant-capable full-text search engine with an HTTP web interface and schema-free JSON documents. from Wikipedia
This centralized log collection is the data core we use for shared security and alerting systems.
Our fluentd sends each and every WordPress service event to our Elasticsearch cluster. Kibana, the tool to visualize data, allows our systems to predict and take intelligent decisions: from alerting, error detection, to security protection.
Now you have access to your Elastic Search logs with a simple click:
You have access to the nginx web server logs and php-fpm error logs.
Screenshots of your WordPress site
Now you can easily distinguish your WordPress sites in your wetopi panel
We take periodically images of your hosted sites. This helps both, you to easily identify your different sites in your wetopi panel and help us to make visual inspections after management tasks e.g. server software upgrades, host swapping (when there is a server failure, our auto-healing system moves your virtual server to a live host)

Also you can view and rebuild the screenshot (clicking the image) of your WordPress server in site's panel page: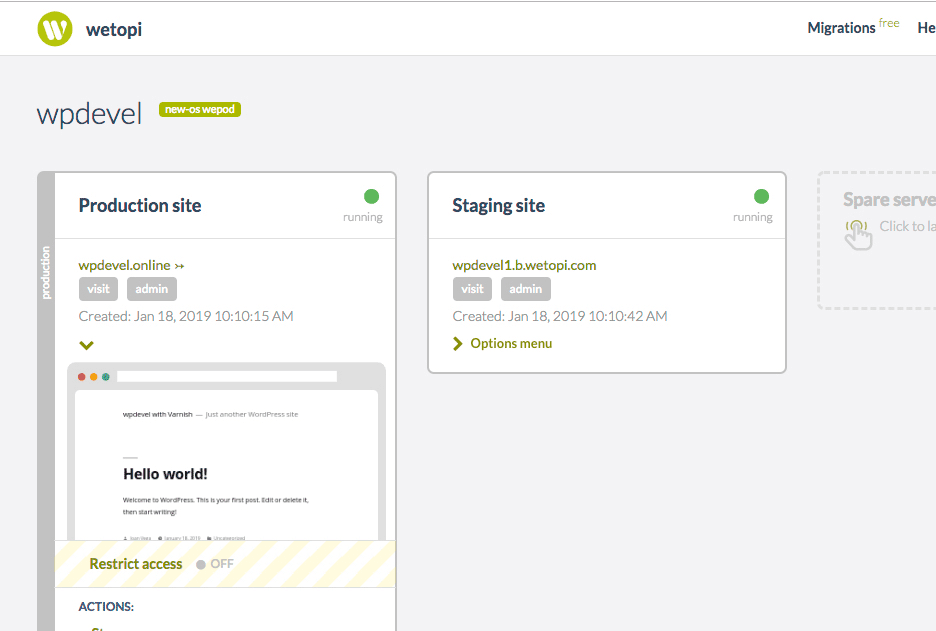 How do we do it?
For the curious ones, we run a bunch of service workers with headless Chrome browsers. These headless browsers can be controlled thanks to Pupetteer, a Nodejs library which provides a high-level API to interact with Chrome.
A lot of code refactoring
Yes, we know, this is nothing you as user can see. It's "code", the internal part of our panel application.
But we love clean code, the latest lib versions and zero technical debt.
All this translates to an "embrace the continuous refactoring" rule.

We have put a lot of effort in making this process easy, agile and safe. One pieces of the software we love the most at wetopi is gitlab. Thanks to all Gitlab contributors for adding happiness to our developer's live.
Gitlab apart from code repo management give us integrated CI/CD pipelines to build, test, deploy, and monitor our code and its Continuous Delivery
Here you can see a list of pipelines for our app.wetopi.com (wetopi panel)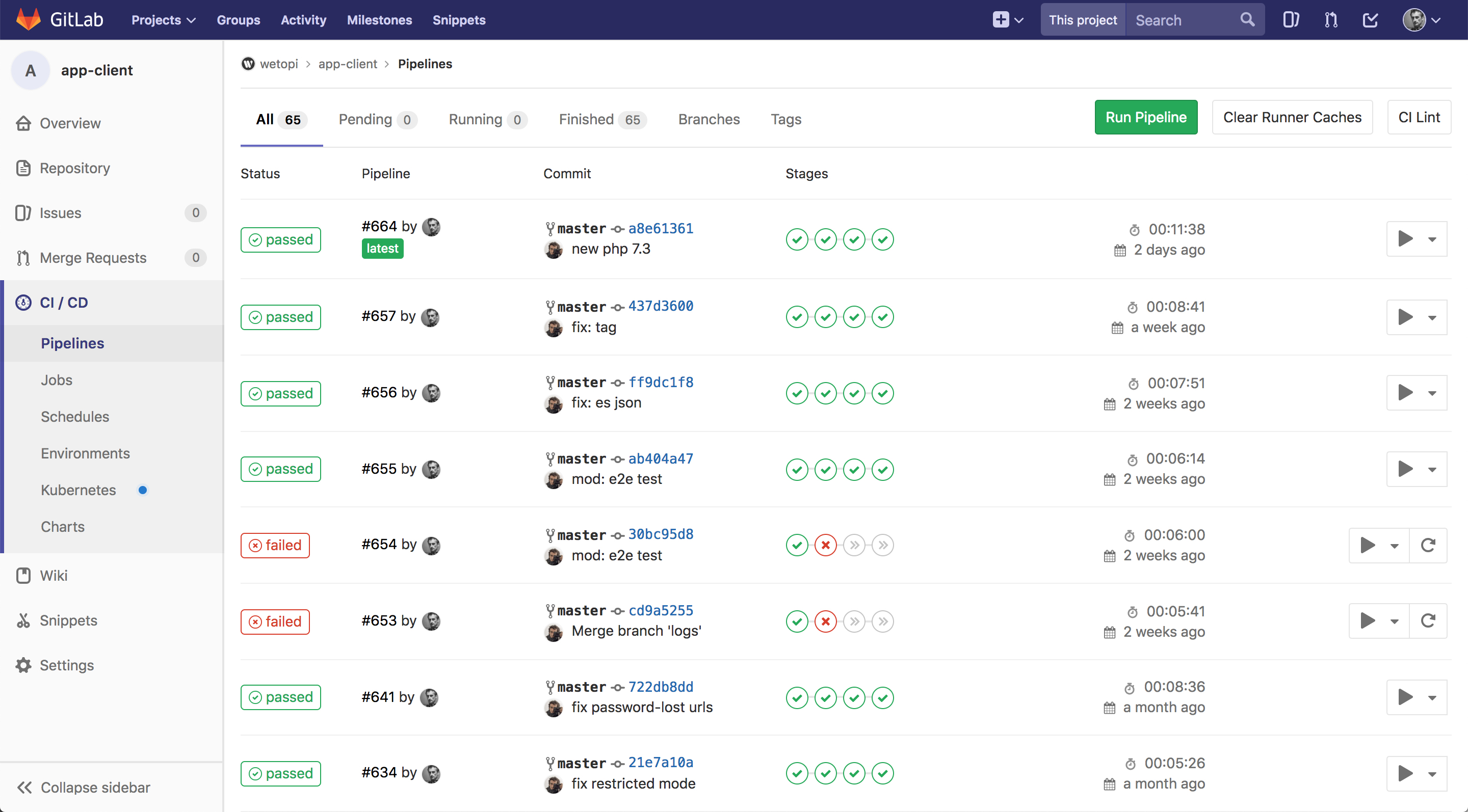 We are techies passionate about WordPress. With wetopi, a Managed WordPress Hosting, we want to minimize the friction that every professional faces when working and hosting WordPress projects.
Not a wetopi user?
Free full performance servers for your development and test.
No credit card required.